CarersCardUK on Suffolk Sounds Radio
Co-founder of CarersCardUK, Russell Berry, was invited onto Suffolk Sound Radio by Rob Dunger to talk about CarersCardUK and how it helps unpaid carers in the community.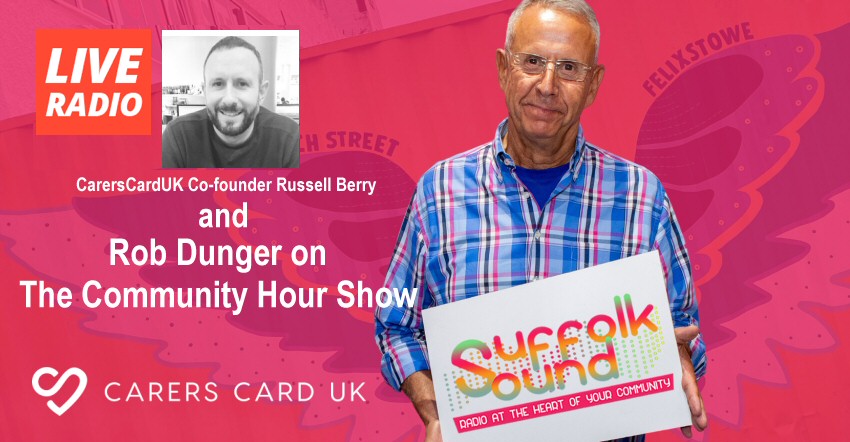 About Suffolk Sound Radio
Suffolk Sound is a radio station firmly embedded into the community. The station is owned by Suffolk Media Training Group Ltd. The station aims to meet the needs of radio listeners in Suffolk, by playing the best and most iconic music of the 70s, 80s, 90s and the early 00s. For news, the focus is on the local events and the Suffolk community. Suffolk Sound radio starts the weekdays from 7am to 9am with the "Rob Dunger in the morning!" breakfast show. Renowned for his many years as a broadcaster, Rob was a familiar voice on BBC Radio Suffolk and is a co-founder of Suffolk Sound. Passionate about Suffolk and the community within, he's an advocate for accessibility for all and championing good causes and bringing people together. Well connected, and known across Suffolk Rob is a trusted voice and presenter and is always excited to see what the future holds for Suffolk Sound!
Thanks for inviting us on and adding CarersCardUk to your Community Toolkit!
You can listen to Rob and Russell discussing CarersCardUK on the show here
Listen
A full autogenerated transcript of the show can be viewed below.
Transcript
Rob
"We don't need to because Russell's on the line. Russell Berry from a company called Carers Card UK. Russell, good morning."
Russell
"Good morning, Rob. Thank you for having me on."
Rob
"And Elisha's with me now. And we're talking, our program, we're talking all about disability, carers, everything to do with mobility and everything. Carers is a big thing. And every now and again, well, not every now and again, every day they need a bit of treatment, a bit of spoil, a bit of pleasure, extra pleasure in life. Tell me about Carers Card UK. What do you do?"
Russell
"Yeah, I couldn't agree more with what you've just said, actually. So we've launched Carers Card UK really to elevate and benefit unpaid carers and those on receiving carers allowance. So the idea really was to develop the ultimate toolkit for carers. So we started with an ID card. And a big part of our ID card is a national ID card. It's a borderless ID card. So the idea is the recognition across the UK. So that's part of the elevation. But then we really just wanted to, we didn't want to stop there so we did the card and then we've now produced, it comes with an accompanying app and that's where we start to really kind of, hopefully provide the benefit for the carers, so we have lots of discounts in there, both nationally and locally. But we also want to look after people's wellbeing, so we have a big wellbeing section, so it's video and audio and questionnaires. You can understand your state of wellbeing to get people to think about wellbeing and then support them after that. We have a coordination tool in there called Carer Circle, which allows people to connect a little group together of the care they're providing someone. Perhaps it's a parent and it's brothers or sisters connecting around the care they're providing their parents. So lots of information, lots of support. And we've really just got going. So we're talking to lots of businesses to help us with freebies and giveaways and anything we can do to really elevate the carers, really benefit them. Because we feel they're in lots of ways unrecognised or don't get the support that they perhaps could get. If you take, for example, the Blue Light card, which is a fantastic card for Blue Light workers, nurses and police. We are aiming to be the Blue Light for carers, in that sense, Blue Light card for carers. And that's just one of the things we do."
Rob
"Now, it's a paid service, you've got to say that, but there's a lot of benefits that can come back, and you can't get them from it. So it's like one of these things, like the senior rail card, you pay so much for it, but the savings you can get can knock that payment out."
Russell
"Yeah, absolutely. So we do charge. And the reason for that is we receive no funding. This is everything we earn goes back in to the card to improving and developing and obviously staff and just making it all, making the wheels turn. But we are constantly trying to get the price lower. That's a big part of what we're trying to do. And that comes with the adoption of the card. So the bigger the reach, the more we can aim to do that, obviously, of economies of scale. But what a carer does do is benefit instantly. So the discounts we have in there, just to grab a couple off the shelf. So we have Whirlpool, Hotpoint, as a discount, you get 30% off with them. So just making one purchase can save you lots of money. We have Hoover, we have Food and Drink, we have a variety of brands. We also work very closely with care product providers. So a company being Complete Care Shop, we get 15% off them. So if you've just, you know, you've started your journey perhaps as a carer and you're not getting any support and you need to kit your house out or your mum's house out or a relative's house out with rails or just pill boxes or dementia clocks or whatever it might be that you need, you can get 15% off those. And that goes right up to mobility scooters that are thousands of pounds. So you can get 15% off. So it does depend on the individual, what they need and what they want, but there's enough in there for people to massively benefit from that. Our fee is for two years. So you have a long, you know, it's a fairly long period to enjoy your payment. Other benefits and value we're adding is things like live events. So we're doing live fitness events. So as part of the wellbeing half that I mentioned, we're putting in there live Zumba and yoga and lots of different classes. And that just is all wrapped in as part of the fee that we charge. So really that toolkit really does, I keep kind of coming back to that toolkit to just really help carers on their kind of care journey.
Speaker 1 (04:35):
Elisha's
"It's great. It's great to learn more. And obviously the theme of today is, we're talking about mental health day and everything like that, which is next week and all of the things that you were just describing is great for all of that. So how much does it cost?"
Russell
"So we've got it down at £9.99, although this week we're doing it for £4.99 because that's ideally where we want get it to. We're just trying to run it to see how it performs, how it works. But the worst case scenario is a £9.99, so it's five pounds a year because it's £9.99 for two years. What we're trying to do is seek funding and sponsorship from businesses to help us fund the card so we can then look to reduce the price. So that's a big part of what we're trying to do. But what's brilliant in that, and we've made some great strides in that, is that the difference with our card is we can have a really big community of card holders behind it. So you've got volume of users behind it, which if I go very corporate, allows us to contact businesses that will then listen because you're coming in with big numbers. And we 100% support local cards, but that's always the challenge with a local free carer card is that the volume of users isn't quite there to really take it to a place that we can take it. So if you imagine there's 10 million carers approximately across the UK, well, the card's aim is to get as many of them as possible because that will then just open so many doors for all carers in every effort we then do."
Rob
"So- Okay, Russell, so people listening today, where do they go? I mean, I found you on Facebook. Is that the best place or go to a website? What's the best?"
Russell
"Yeah, so the website is obviously www.carerscarduk.co.uk. We are obviously on Facebook as well, doing lots of work on Facebook, actually, and socials. But yeah, the website is where it explains all of what we do, explains all of what the card does. I must say, it's an optional card. We're trying to be here as an addition. We're trying to be here. If carers feel it adds value to them, fantastic. We're there for them. We often get people say, well, I can get a local free card. Go and get that local free card. We 100% support local free cards. What we're saying is, well, as a carer, if that card is doing something for you, great. If our card can also do something for you, brilliant. Have two, have five if they exist, as long as you feel they benefit you. It's not one or the other. We want it to, we complement what your local authority."
Rob
"Okay, Russell, so we've got another tool in our toolbox there, CarersCardUK.co.uk. People want to find out more. Thanks for joining us today on Discoverability. Thank you, Russell. Thank you very much."
Posted: 06/10/2023