Your chance to win £100 - the results
Just – wow!
Our competitions and giveaways have always been popular amongst our card holders. However, out of all of the various competitions and giveaways we've done in the past the response to this particular competition has both humbled and amazed us. Not just in terms of the sheer number of entrants but more importantly the quality of the responses.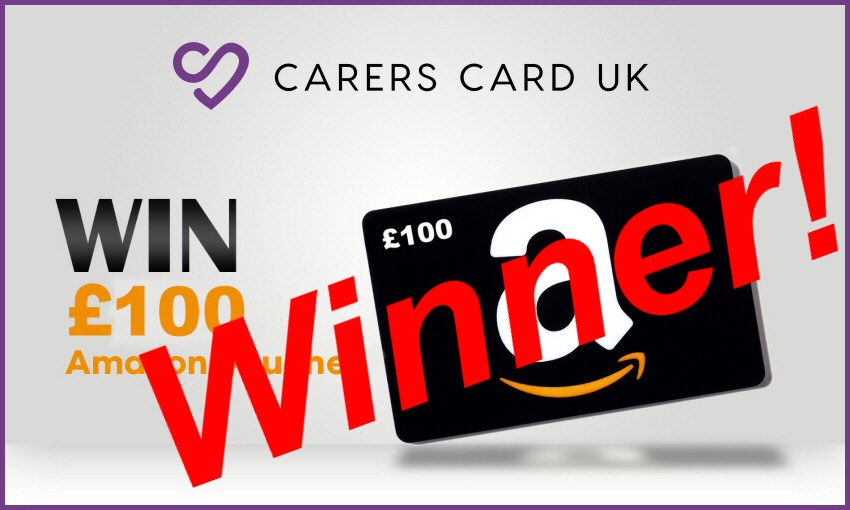 The competition
For our latest competition we asked our card holders to tell us, in their own words, what advice they would give someone that had just started their journey as an unpaid carer.
The judging
Going through the various pieces of advice was no easy task for our panel. As we read through each and every one it was easy to see just how much people care. This wasn't just about winning but also about carers just wanting to help other carers. The advice that was submitted ranged from providing; guidance, support, knowledge, encouragement and everything in-between. We can't emphasise enough just how difficult the task of picking the winner was. In fact, one of our panellists, Veronica, was actually bought to tears at one point. If we could, we would give each and every one of you a prize but unfortunately this just isn't possible. So, there can only be one overall winner and 10 runners up.
The winner is…
After much deliberation we can announce that the winner of this competition is Nadia Ramz from Oxfordshire. Nadia's advice can be seen below:
"If you're a carer that means you must be a very special person. You have been given a gift to protect and care for. It takes a lot of strength, determination, care, patience and love above everything. You are strong even on the days you feel weak. You're a fighter even when you get defeated. Don't give up you will win at the end. Very proud to be part of you all."
The panel thought that this advice had a little of everything. It not only gave some brilliant advice but it brilliantly encapsulated encouragement and perseverance.
The runners up
A huge congratulations goes to the following 10 runners up. Once again, their advice was chosen because they too provide; guidance, support, knowledge, encouragement and everything in-between. The full list of runners up can be seen below:
Jasmin Jade Sanjurgo, Merseyside
Ella Harman, Wiltshire
Gem Mcloughlin, East Sussex
Matthew Hasler, Mid Glamorgan
Karen Fletcher, Derbyshire
Sharron Newsham, Oxfordshire
Sally Fowler, Cumbria
Judy Cailler, Lancashire
Rachel Billington, Devon
Alythia Brown, Buckinghamshire
Claiming
Nadia and all 10 runners up will be emailed in the next day or so with instructions as to how to claim their prize. So, if you are one of the winners then please keep checking your inbox and contact us if you don't hear from us within the next 5 days.
Thank you everyone!
The team at CarersCardUK believe that the advice that was provided by our card holders (carers) is just too valuable not to pass on to other carers. Therefore, as a thank you we'll be creating a special page on both our website and app that showcases everyone's advice. Once again, thank you so much for taking part. Even if you were unlucky this time, it's important to know that your participation will potentially help other people as they start their journey as a carer. This in itself makes you a winner.
Keep a look out for our next competition or giveaway!
Posted: 09/06/2023